Oregon and Utah Do Not Deserve to Be in the College Football Playoff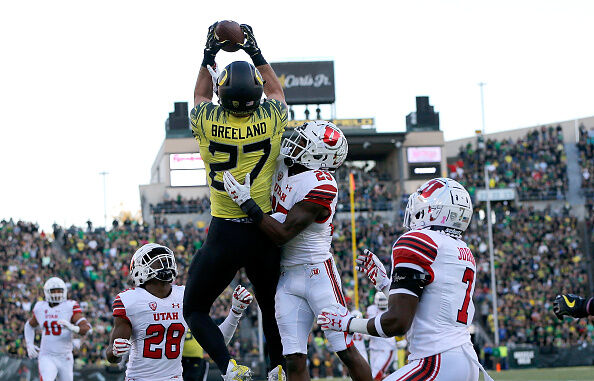 Jason Smith:

"My real issue with the College Football Playoff is #6 and #7. It's Oregon six, Utah seven, Penn State eight, Oklahoma nine, and Minnesota ten. All three of those teams, Penn State, Oklahoma, and Minnesota, are far and away BETTER than Oregon and Utah. I disagree completely with the evaluation of the Pac-12, because the Pac-12 this year stinks. It's fun, Pac-12 'After Dark' is great, and it's kooky, but Oregon and Utah are not very good, and have done NOTHING to show you that they deserve to be 6 and 7. They literally have not beaten anybody. I don't even think Penn State is all that great, but I sure as hell know they're better than Oregon and Utah"

(Full Audio at Bottom of Page)
Listen to Jason Smith explain why he thinks the fraudulent Pac-12 Conference needs to be left out of the College Football Playoff this year, as number six ranked Oregon and number seven ranked Utah are the conference's last hope at grabbing one of the four playoff bids.
It's pretty consensus to believe barring the unthinkable happening, LSU, Ohio State, and Clemson will grab the first 3 spots in the playoff. LSU would likely still make the playoff if they lost to Georgia in the SEC Championship, Ohio State is an 18-point favorite over Penn State this weekend, and defending champion Clemson is dominating the most putrid ACC the conference has ever produced.
That would leave one spot open for the Pac-12 champion, barring Georgia beating LSU in the SEC championship.
Since the College Football Playoff's inaugural year in 2014, the Pac-12 has produced just one win, which was the 59-20 lashing Oregon gave Florida State in 2014/2015 before getting blown out by Ohio State in the title game. Since that game, only Washington in 2016/2017 has made the final four (Lost 24-7 to Alabama).
Jason says both Utah and Oregon 'aren't very good' considering the best game on either team's resume is Oregon's narrow LOSS to no. 15 ranked Auburn in Dallas.
Check out the audio below.

The Jason Smith Show with Mike Harmon
Want to know more about The Jason Smith Show? Get their official bio, social pages & articles on FOX Sports Radio!
Read more